R-Panel Roofing and Siding Applications
Smith Built's R-Panel metal roofing and metal siding system is a strong, durable, energy-efficient choice for both roofing and siding applications. R-Panel, sometimes referred to as PBR (Purlin Bearing Rib) Panel, is formed with sturdy 1 ¼" trapezoidal ribs which are spaced on 12" centers. R-Panel has strength and water tightness characteristics that make this panel perfect for a variety of applications, including:
Applications
Commercial Walls and Roofing
Steel Frame Metal Buildings
Institutional Walls and Roofing

Panel Profile


Coverage
Minimum Slope
Rib Height
Gauges
Recommended Substrate
Length
36"
1:12
1 -1/4"
26
Open Framing
Solid Substrate
3" to 60"
Available Colors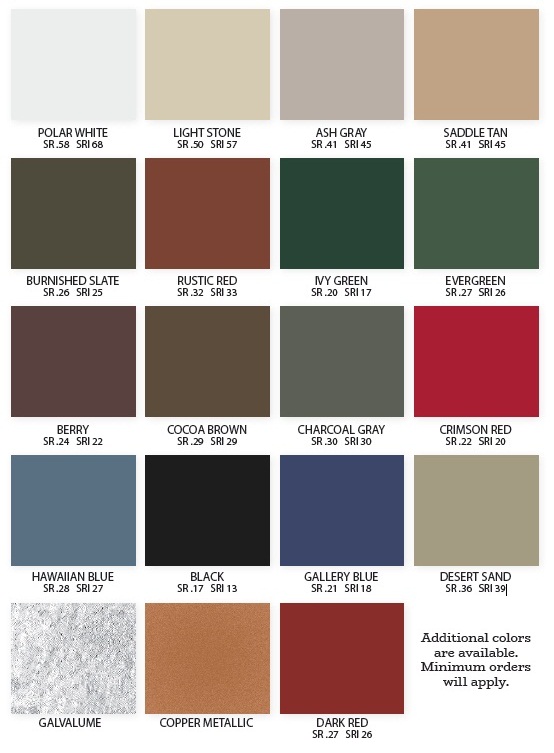 *by special request - call us for details
Smith Built produces R- Panel in 20 different colors. All of our paint systems include a 40 year limited warranty for guaranteed durability.
Installation
As R-Panel is typically installed over metal purlins or hat channel, Smith Built provides color-matched self-drilling fasteners to secure the panels to the structural steel elements. We also carry a wide array of structural steel for any project for which R-Panel is a fit.
Call or stop by any one of our 3 locations today to discuss the benefits of R-Panel.