Standing Seam Roof Panel System
Smith Built produces a premiere Standing Seam roof panel system. Our Standing Seam roof features a clip lock system that allows for maximum design strength coupled with great aesthetic appeal. The panels snap together, without machine seaming, and all fasteners and screws are hidden from view. Our Standing Seam system is energy efficient and virtually maintenance free. It is a great choice for home and business owners that want the smooth and clean look that a Standing Seam roof provides.
Applications
Clip system standing seam panel
Concealed two-piece panel clip allows for thermal expansion
Can be installed over open framing or solid substrates

Panel Profile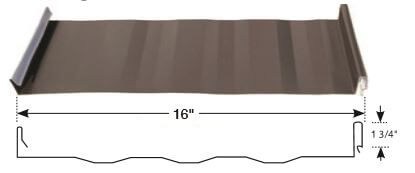 Smith Built's COOL roof technology protects your roof by reflecting the suns radiant heat. This translates into a cooler attic space and home and COOL savings on your power bill.
Coverage
Minimum Slope
Rib Height
Gauges
Recommended Substrate
Length
16"
3:12/1:12
1-3/4"
26
Open Framing
Solid Substrate
3" to 60"
Available Colors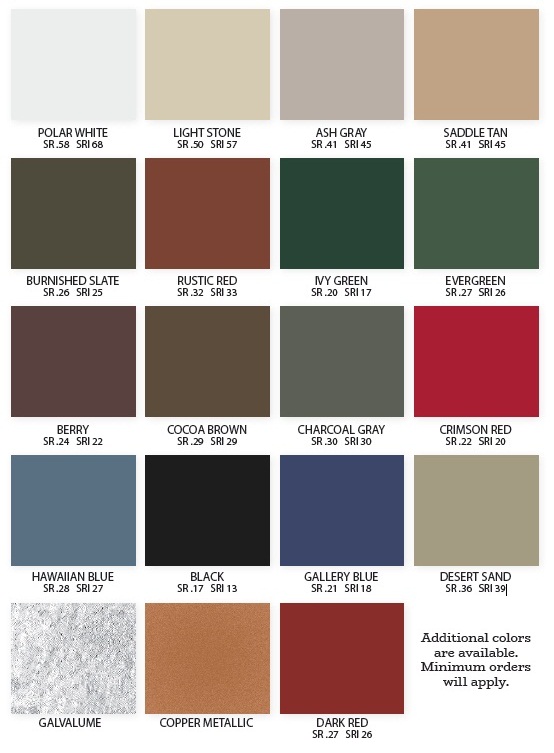 *by special request - call us for details
Smith Built produces Standing Seam in 20 different colors. All of our paint systems include a 40 year limited warranty for guaranteed durability.
Installation
A Standing Seam roof from Smith Built can be installed over 1x4 stripping boards, metal purlins, or hat channel.
Call or stop by any one of our 3 locations today to discuss the benefits of a Smith Built Standing Seam roof.
Note – A slight wavy appearance, known as Oil Canning, is a natural feature of metal roofing, and is more common on Standing Seam roof panels. The clip-lock system is intended to reduce this phenomenon in comparison with other Standing Seam systems, but some Oil Canning is still a natural feature. Any visible Oil Canning becomes less noticeable over time and is not a reason to reject or return the roofing material.